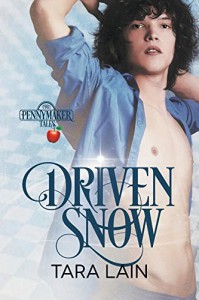 "Your life lies before you like a path of driven snow, be careful how you tread it cause every step will show." ~ Lowri Williams

If there was ever a person who is much more than he seems, it's Snowden "Snow" Reynaldi of Tara Lain's 'Driven Snow'. True to the expression "white as the driven snow", he is young and beautiful and virginal. However, he's also wickedly intelligent and a master's master in chess. It is a huge mistake to underestimate him, although many do. Like Snow White, Snow is innocent in many ways, especially when it comes to having intimate relationships, and therefore quite alone. But when he realizes that someone Snow has admired from afar, his prince, Riley Prince, is interested in him, he can't help but dream that his isolation is over.

When Riley starts having trouble in physics, Snow decides to tutor him. Things are rough for Riley until Snow uses football to explain the relationships of physics and game strategy. It's brilliant and Riley becomes accomplished enough to pass and keep his spot on the football team. Being together leads to a few confessions, each man telling the other their feelings. Unfortunately Riley feels he has to stay in the closet because of his football career. They meet secretly and are happy until someone starts a rumor that Snow engages in sex-for-pay, which, of course, isn't true. Riley wants to believe Snow, but there is just enough doubt to convince him. Riley turns out to not be Snow's prince after all. This breaks Snow's heart. He's not sure anything could ever make up for the hurt Riley has caused him, but Snow has to keep going, for Professor Kingsley's sake if nothing else.

Professor Kinglsey, a king in Snow's eyes, is also his best friend and the closest thing Snow has to family. They work so well together that Snow can't imagine anything that would come between them. He's unpleasantly surprised when the professor comes in with a woman named Amitra, who is his fiancée. Amitra is the opposite of Snow—dark hair, olive skin, and bosomy. Snow immediately dislikes her. It goes further than jealousy or losing the complete attention of Professor Kingsley. She's beautiful and obviously intelligent, but Snow has a strong sense that Anitra is not what she appears to be. Only Snow sees her as a possible wicked witch with ulterior motives. Snow's suspicions are confirmed when attempts are made on his life.

Every time I read one of Tara's stories, I delight in her ability to invent such vivid, endearing characters. Snow is no exception. In fact, he may be one of the most interesting of all with his combination of innocence, courage, and loyalty. It doesn't hurt that he's so beautiful and smart either. The thing is, Snow doesn't have a conceited bone in his body and that makes me love him more than ever. When it comes to "who's the fairest one of all" it's Snow for me, hands down. I loved the Snow White references with a king, prince, Snow White, a beautiful, but wicked witch, and, of course, the seven dwarfs, in the seven fraternity brothers who gave Snow refuge in their house. There is even a fairy godmother, in this case, a fairy godfather. I totally enjoyed this story with its twists and turns and fairy tale references. I highly recommend this tale to anyone who enjoys revisiting a childhood story with a very modern twist, wonderful characters, and, of course, a happy ending. Thank you, Tara, for your modern-day take on a beloved story.